The dialysis centre elocated within the hospital was inaugurated in 2010. The modern equipment and wide range of facilities being new meet the highest quality standards for our patients, inspiring confidence n our services and within a professional and friendly environment.
The dialysis centre is located on the eastern Mediterranean coast of Spain in Benidorm, on the Costa Blanca. Benidorm has a privileged micro climate all year round, making it an ideal holiday choice. The centre overlooks the backdrop of mountains surrounding Benidorm with fantastic views.
---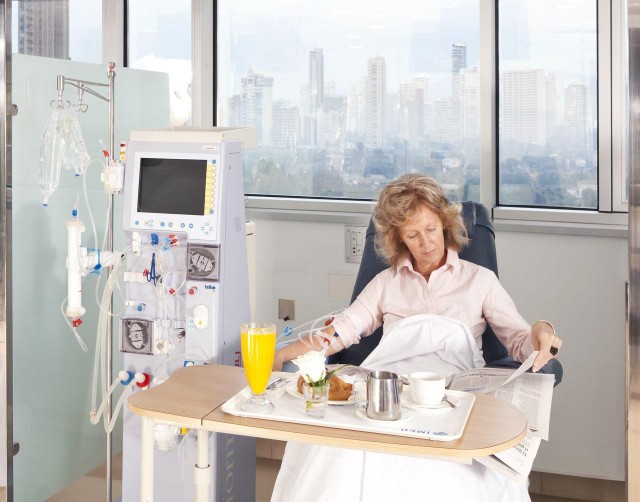 Services
11 dialysis treatment machines from the company Belco Formula Therapy 2000.
Technologically advanced system of water treatment that produces ultra pure water necessary for this procedure.
We also have a centralized concentrated ring system that facilitates and ensures the quality of service and comfort of both patients and healthcare workers.
During the dialysis sessions there is a doctor present to guarantee immediate attention should the patient need it.
D24 hour emergency care during the patients stay.
Multilingual Nursing (English, Dutch, German)
Spacious and modern facilities with individual dividers to ensure patient privacy during each treatment.
Individual TV for each patient with multilingual channels.
Free wi-fi.
Specialists
The team consists of experienced specialists. Imed Levante hospital nurses working in dialysis and the dialysis assistants, are all managed by the experienced nephrologist Dr.Marta Gracia.
Dr. Marta Gracia Toledo has always worked with patients to ensure the best possible medical treatment using the best available technology. She as helped to offer our patients the best quality of hemodialysis treatment possible under the guidelines of safety, hygiene and good environment.
Our staff speak Dutch, English, German and Spanish.